BIRDEM (Bangladesh Institute of Research and Rehabilitation in Diabetes, Endocrine and Metabolic Disorders)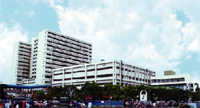 The comprehensive health care delivery to a vast number of diabetic all over the country is well recognized as a unique program of the Diabetic Association of Bangladesh (BADAS). The Association executes this program primarily through its central institute called the Bangladesh Institute of Research & Rehabilitation in Diabetes, Endocrine and Metabolic Disorders (BIRDEM).

The Institute has the largest diabetic Out-Patient turnover in the world under a single roof and it has about 700 bed In-Patient hospital with all modern disciplines of medicine. Through its Academy, BIRDEM conducts the largest number of post-graduate medical courses in the private sector. With large number of international collaborations the institute is now widely acclaimed as one of the most advanced research center in the world. This is reflected in the recognition of BIRDEM by the World Health Organization (WHO) as a Collaborating Centre for Research on Prevention and Control of Diabetes. It is the first of its kind outside Europe.
BIRDEM-2
Mohila and Shishu Diabetes Endocrine and Metabolic Hospital, Segunbagicha, Dhaka started on 7th February 2012 along the Gynae and Obs and Pediatrics OPD facilities on Diabetes Endocrine & Metabolic disease, GHPD, Eye, Skin care facilities and modern laboratories facilities for both diabetic and non-diabetic subjects.
Clinical Services Division
Clinical Services division is responsible for the services provided to the in-patient & out patient department both diabetic and non diabetic. The Clinical Services Division provides comprehensive diabetic care, to all the registered diabetic patients irrespective of economic and social status free of charge. Diabetic patients are entitled to free medical consultations on recommendation by the social welfare department. Free diabetes education (which includes basic knowledge on overall health), nutritional advice, social support and rehabilitation, if necessary are given. Insulin, oral hypoglycemic agents and other medications are supplied free of cost or at subsidized cost to the poor diabetic patient as recommended by the social welfare department. The clinical services division of BIRDEM, Shahbagh and BIRDEM-2 take care approximately 4064 patients who are attending the OPD daily.

The out patient services are given to patients with diabetes and endocrine disorders as well non-diabetic patients also attend the out door of the departments of internal medicine, neurology, psychology, gastroenterology, cardiology, nephrology, endocrinology, pulmonology, surgery, ophthalmology, orthopaedics, urology, plastic surgery, ENT, Obstretics and gynecology, dentistry, skin diseases, physiotherapy, Paediatrics & Neonates.

The in-patient departments have taken the characteristics of almost a general hospital, although the diabetic and other endocrine patients have always given priority. The hospital now has 700 beds. Among these 30% beds are free. Poor diabetic patients and case of academic interests are entitled to these free beds. For all necessary investigations and treatment (including medications) the patients are totally exempted from charges in these free beds. Sixteen beds in the hospital are year-marked for the staff of BIRDEM-1 where all investigations and treatment are entirely free. Academic cases are admitted free of cost and as a teaching hospital these cases are taken as priority. Besides Post graduate students, medical students of IMC (Ibrahim Medical College) & internee doctors of IMC are placed in all the departments of BIRDEM. Supervision of their training are carried out by this division.

In the present year many units have been equipped with new machines and quite a few old machines have been replaced to render better quality service. Our specialists have started providing their services in the newly built specialist chamber in morning & evening. BIRDEM has also started providing 24 hours OT and investigation services.

From August 2011 Resident Medical Officer were recruited. They will take full time structured training under the supervision of this division. OPD of BIRDEM is providing OPD services to Gynae & Obs, Paediatric & Paediatric Surgery, General Surgery, Eye, GHPD, Dental Patient (Female & Children), Laboratory Specialties are also available for 24 hours.


BIRDEM Nursing College
BIRDEM Nursing College, an institute of the BIRDEM General Hospital of Diabetic Association of Bangladesh. Established and enrolled of students for the academic year of 2013-2014 (launching BSc Nursing course is the expending of new movement).
Course offered & affiliation :

The college offers 4 years BSc Nursing (Basic) & 2 years BSc Nursing (Post Basic) course as approved of Medicine Faculty of the University of Dhaka. The College has been accorded permission by the Ministry of Health & Family Welfare, Government of the Peoples' Republic of Bangladesh and is affiliated with the University of Dhaka and Bangladesh Nursing Council.
Goal & objectives :

BIRDEM Nursing College aims to be an excellent broad based educational Institute with focus on high academic standards for the students to equip them with knowledge, skill and attitude to convert them into efficient nurses who shall be an asset for the society in the field of nursing. This College will provide graduate nurses of highest academic standard capable to need based professionals. Make them expert with knowledge and skill, so that they can serve their profession with utmost efficiency both at home and abroad.
The Campus :

The college campus is situated at 15th floor in BIRDEM Hospital Building. The college are well furnished, fully air conditioned and adequately equipped to accommodate class rooms. All the lecture rooms have been equipped with audio visual equipments including multimedia set-up.
Teaching Hospitals :

The Teaching Hospital of the College students include internationally reputed 700 bedded multi-disciplinary BIRDEM General Hospital.