Health Care Development Project(HCDP)
BADAS have recently made a quantum jump through the initiation of a large scale project for general health care delivery (the Health Care Development Project, HCDP) supported by the Govt of Bangladesh. Dutch Govt and a Consortium of local Banks. Through this project a network of 20 hospitals and health centers is under the process of implementation in and around Dhaka as well as in northern parts of Bangladesh upto the Upazilla level.
the Pilot Project:
The overall nationwide dream of the Health Care Development Program is now being piloted through a Project which includes a 250-bed Teaching hospital (upgradable to 500-bed) and 10 Urban Health Centers in and around Dhaka, a 200-bed (upgradable to 300-bed) Regional Hospital in Sirajganj, 30-75 bed Subregional hospitals (upgradable to 100-bed) in Bogra, Pabna, Dinajpur and Thakurgaon, and 4 periperal Health Centers linked to the Subregional Hospitals.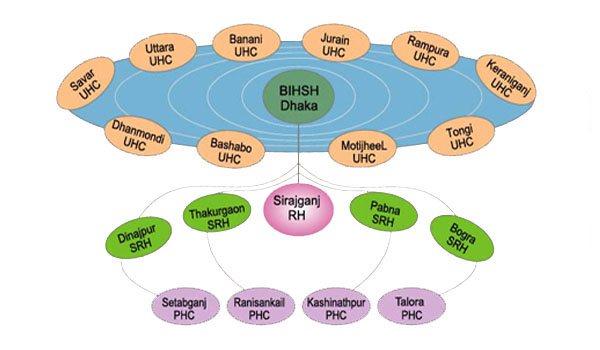 Developing Partnership as well as public -Private Partnership in action:
For its implementation HCDP is supported by 19.3 million Euro grant by the Dutch Government through its Developing-Related Export Transaction Program (known by its Dutch acronym Oret). A Dutch Organisation-Simed International By is playing the responsibility of implementing the project. The Govermnent of Bangladesh being the signatory and Diabetic Association of Association of Bangladesh being the Beneficiary of the Grant, the Project has created an ideal example of partnership on health care between the people of Bangladesh and Development Partners on the one hand and between the public sector and private sector on the other hand.
Non-Conventional Investment by local Banks for a social Goal:

It is specially encouraging that 11 local Banks and financial institutions ,both from public and private sectors, have come forward to support this socially motivated project by giving a long term syndicated loan of tk 1030 million to the Project. The Participating Banks are Pubali bank Limited (Lead Arranger), Sonali Bank, Rupali Bank Limited, The City Bank Limited, Dutch-Bangla Bank Limited(Co-Arranger), Industrial Promotion & Development Co LTD, Agrani Bank, Bank Asia Limited, Prime Bank Limited, IFIC Bank Limited and Standard Bank Limited.


Contact Address:

I25/I Darus Salam, Mirpur-l. Dhaka-l2l6.
Ph: 00880 2 8035506
e-mail: prd@hcdp-bd.org: coordinator-pmc@hcdp-bd.org

For detailed information Please visit www.hcdp-bd.org